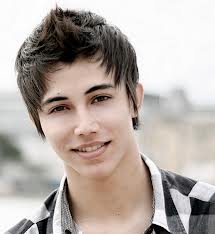 Keagan Hudson is a fanon character in SkyDiva101's The Tale Of The Three Sisters trilogy. He is Katelyn Acosta's love interest in the trilogy & the best friend of Bridgette Lopez. He knows Elsa & Anna from Facebook.
Appearance
Edit
Keagan is a typical teenage boy with side-swept brown hair & blue eyes. He says he wants to look like Harry Styles from 1D in the hopes of finding a girlfriend. The Acosta sisters hate 1D, but Katelyn loves his "good guy" personality. Keagan wears a casual top & capris most of the time in The Tale Of The Three Sisters, but in Fire & Ice, he wore a suit & tie for Brittany & Kristoff's wedding.
Personality
Edit
Keagan was sure that his perfect match was Heather, so he became a good guy to impress her. Apparently, he wasn't good enough for Heather, but attracted her younger sister. Keagan is a typical teen boy, who loves Eminem, Drake, Kanye West & Jay-Z, but often impersonates 1D to get a girlfriend. He devotes himself to Katelyn, who is actually older than him, but stays away from 1D & JB. Keagan is also a go-getter & a lover of electronic music & Crazy Frog.
Ad blocker interference detected!
Wikia is a free-to-use site that makes money from advertising. We have a modified experience for viewers using ad blockers

Wikia is not accessible if you've made further modifications. Remove the custom ad blocker rule(s) and the page will load as expected.